NVA-88 speaker modification
---



=>



With some passives components you can obtain a best sound quality.
The object is to add 3 "Low Pass" and 3 "High Pass" filters.

The broadcasts audibility is cleanly improved, particularly in AM mode.

Here are the proposed improvements :

2 RCA inputs (for 2 receivers...)
1 high impedance filtered audio output RCA 3 (for a PC sound card, RTTY demodulator...)
1 phones plug
3 HIGH PASS filters (240 Hz, 360 Hz and 800 Hz)
3 LOW PAS filters (940 Hz, 1350 Hz and 2900 Hz)
There are the new commands :
1 switch (Int 1) for INPUT 1 or INPUT 2 selection
1 switch (Int 4) for HP, Phones or mute selection
1 selector switch (Int 2) for the 3 HIGH PASS filters or direct
1 selector switch (Int 3) for the 3 LOW PASS filters or direct
The schematic diagram is simple and effective :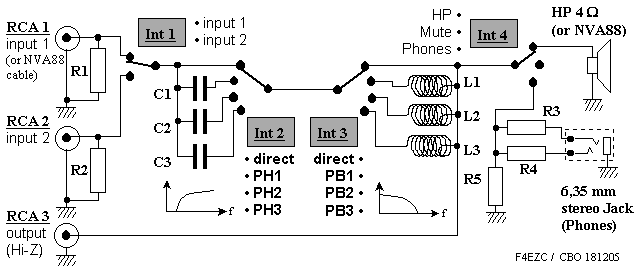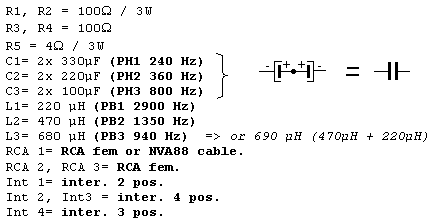 (All the values are calculated for a 4 Ohms speaker,
for 8 Ohms, multiply by 2 the coils value,
and divide by 2 the capacitors value).
---
MODIFICATIONS :
Dismantle the speaker :


Pierce the back side for the RCA plugs :






(The 100 Ohms R2 resistor is soldered on the INPUT 2 RCA).

Carefully cut the front side and the grille :




The capacitors and the coils are soldered on a small circuit, others components are directly soldered on the switches :






---
F4EZC
[email protected]

FORM
.